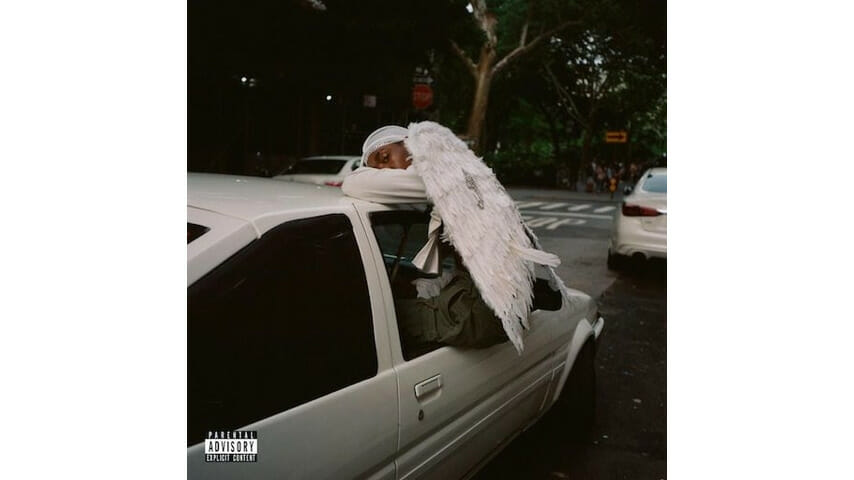 "You're doing the most." If you're a queer person of color, you've probably heard the phrase thrown at you like a muzzle. It asks you to shrink, to silence the very traits you've built to survive in a world that doesn't always love you. But "doing the most," being "extra," or acting "too much," shouldn't have to be a fault. There can be strength in that excess. Devonté "Dev" Hynes of Blood Orange knows that well.
An auteur who stretches across genres and projects, Hynes is the kind of artist whose reach might seem extreme. From songwriting and producing for Solange and Carly Rae Jepsen, to scoring films such as Gia Coppola's Palo Alto and performing with classical composer Philip Glass, Hynes is doing the most. His latest album, Negro Swan, asks: why would you ever want to do the least?
It's a question posed by transgender activist Janet Mock, who narrates the album. She sounds like a friend, reflecting words of wisdom from across the couch: "My eternal resolution will be to do too much," she says on album opener "Orlando." There's no doubt that Hynes has followed this wisdom— beneath the track's irresistible bassline, he details the experience of getting beaten up after school ("First kiss was the floor," goes the chorus.) He isn't interested in avoiding the unsavory details of life— instead, he finds ample space on Negro Swan to indulge them. Perhaps too little are those works that refuse to address the anxieties and gifts of black queerness, to turn its pains into pleasure the way Hynes does.
It's a habit shared by indefinable virtuosos like Prince or Michael Jackson; Negro Swan, like its 2016 predecessor Freetown Sound, proves that Hynes is of their fiber. "Saint" borrows from their lusty, soulful pop— flitting sax runs fill the start of the song, falling out to starry synths and shuffling drums. It's a rapturous, pleading highlight— "Spreading all my love for you, you never tell me all that you do," Hynes croons, reaching for the bliss of a total connection.
Ecstasy grows on melodic R&B tracks like "Take Your Time," where hazy flutes spill into Hynes' airy vocal runs, or single "Jewelry," where his layered harmonies halt to a declaration of self-love: "Nigga I'm feelin' myself," he chants. But it isn't long before Hynes treads back to notions of doubt and hopelessness— single "Charcoal Baby" opens to the dread of loneliness upon waking: "When you wake up / It's not the first thing that you wanna know / Can you still count / All of the reasons that you're not alone?" Woozy guitar riffs pile and whirl as Hynes finally incants the album's namesake: "No one wants to be the odd one out at times / No one wants to be the negro swan," he sings on the chorus. Yet Hynes, like his maverick forefathers, ultimately understands that being an outlier is a gift. It's even sexy. "Charcoal Baby," above all else, is a work of gorgeous sensuality.
James Baldwin once noted that sensuality existed at the root of Black America's "ironic tenacity" – that tendency to endlessly weave suffering into something luscious. To be sensual, Baldwin suggests, is not some promiscuous thing. Rather, it is to "respect and rejoice in the force of life." Dev Hynes has crafted a work that does exactly this. With myriad collaborators from A$AP Rocky and Puff Daddy, to rising talents TeiShi and Ian Isiah, Negro Swan looks unflinchingly at black and queer life—its traumas, its tensions, its passions. And tucked somewhere within it all, is hope: "The sun comes in," Hynes reminds us at last.
Listen to Blood Orange's 2012 Daytrotter session below: